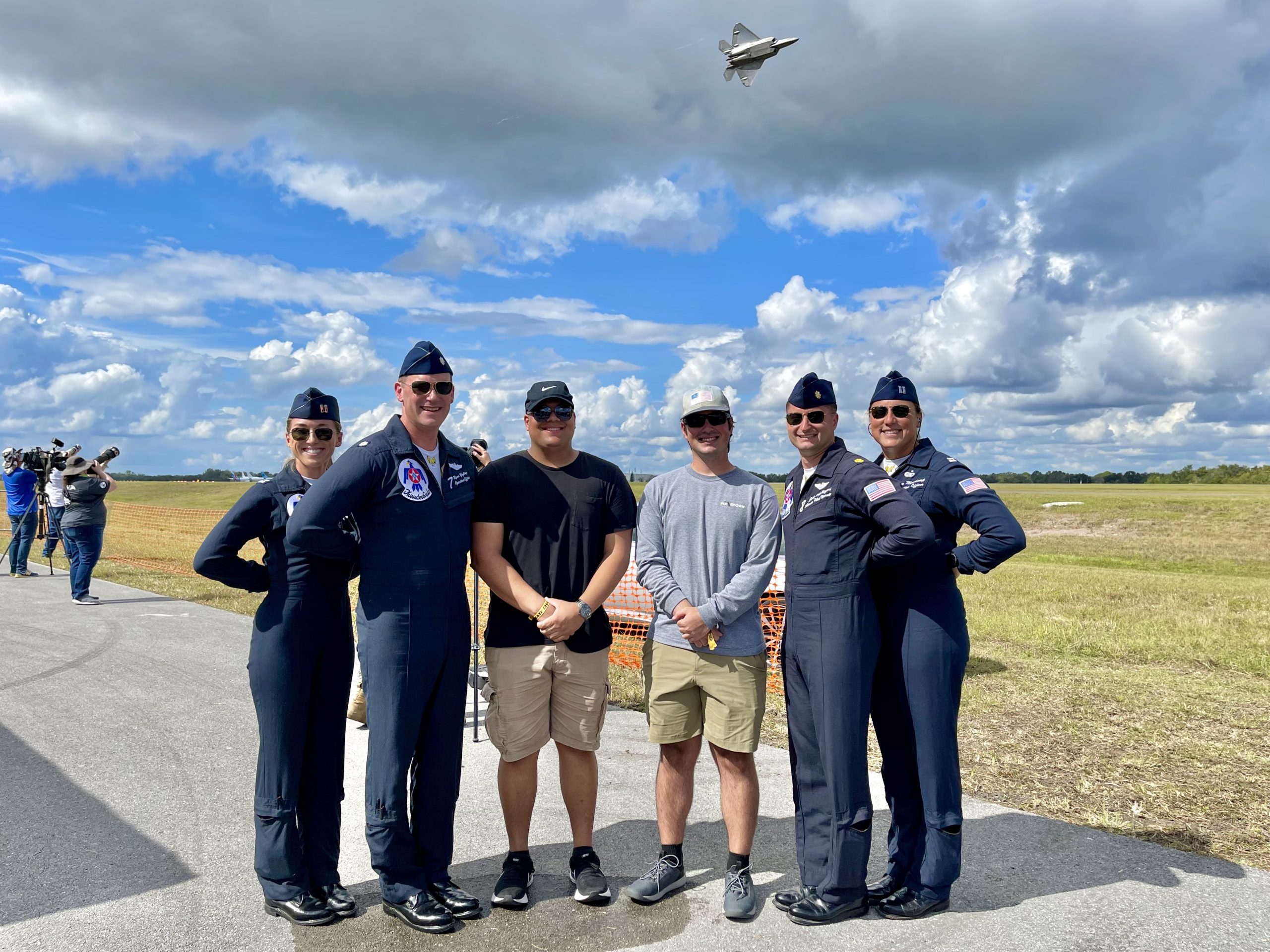 Fourth Cajun Scholarship Recipient Announced
2022 Cajun Del Bagno Memorial Scholarship winner Ricardo Miller (third from left) poses with 2021 scholarship winner Monte Rodriguez and members of the U.S. Air Force Thunderbirds at the Orlando Air & Space Show.
MELBOURNE, Fla. (December 5, 2022) – The National Air, Sea and Space Foundation, in partnership with the Florida Institute of Technology and AirDotShow, recently announced that Ricardo Miller is the fourth recipient of the Cajun Del Bagno Memorial Scholarship, honoring fallen U.S. Air Force Thunderbird pilot Stephen "Cajun" Del Bagno.
Each year, the Cajun Del Bagno Memorial Scholarship goes to a student in need to help them pursue a future in aviation. Those who were closest to Del Bagno–his father, mother, two sisters and two closest friends–select recipients of the scholarship.
"The Cajun Scholarship has connected me with some incredible people in aviation who are passionate and dedicated to what they do," said Miller. "As the son of an airman, I am honored to receive a scholarship memorializing a great airman whose legacy has left a lasting impact on the aviation world."
Growing up at Naval Air Station Pensacola, Miller discovered his passion for aviation at a young age.
"One of my earliest childhood memories is being awoken at night by the rumblings of aircraft engines as they flew over my home," recalled Miller. "As I laid awake in bed, I dreamed of what it was like to be one of those pilots."
Miller's dreams turned to reality in April of last year when he gained a slot in the aviation department at one of Florida's elite STEM universities – the Florida Institute of Technology.
"After years of rigorous work and devotion, I am privileged to be one of the few who can call themselves a pilot," he said.
Miller is currently working towards his single-engine commercial add-on at FIT Aviation, while setting his sights on graduation in May of 2023 and earning his certified flight instructor certificate. He ultimately wants to fly for an airline and continue to inspire others along the way.
"Flying has pushed me to overcome adversities, drive for personal improvement, and develop into a young professional," said Miller. "The awe that aviation inspired in me long ago is just as fresh as it was then, and my marvel with aviation continues to be why I want to fly."
Del Bagno started flying when he was 14 and went on to be a corporate pilot, banner tower, skywriter, and flight instructor prior to joining the Air Force. During his 11-year career as an Air Force pilot, he flew the F-16 and F-35, before joining the Thunderbirds in the fall of 2017. He lost his life in a crash during a practice in April of 2018, just 10 days after performing at an air show in Brevard County as Thunderbird #4.