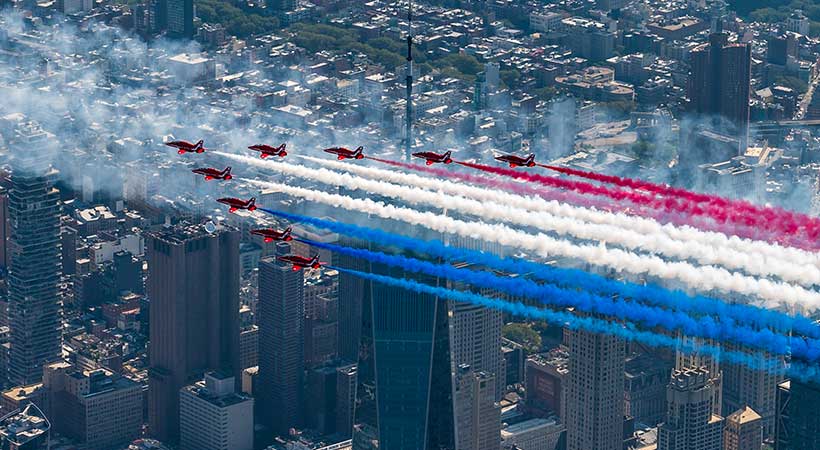 International Military Teams
@AirDotShow hosted the Royal Air Force Red Arrows in New York during their 2019 North American Tour and supported them as the base for all their northeast US displays and flypasts.  The Red Arrows performed at the New York International Air Show and participated in the historic Hudson Flight with the U.S. Air Force Thunderbirds, F-35 Lightning II Demo Team and F-22 Raptor Demo Team.
@AirDotShow regularly hosts the Canadian Forces Snowbirds during the spring and fall when they visit the United States outside of the Canadian air show season.  Their last performances at #AirDotShowLive destinations were in Ocean City and Atlanta in 2019.  Due to their shortened schedule for 2020 you'll have to wait until next year when we hope to host them at some of our destinations on the 2021 tour!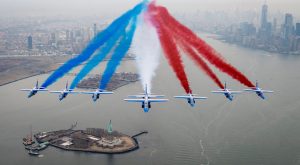 @AirDotShow hosted the French Air Force Patrouille de France for their U.S. Tour in 2017 and served as the liaison for a large part of their east coast displays and flypasts.  They performed in the U.S. for the first time in 31 years on April 1-2, 2017 at what is now #AirDotShowLive Orlando as well as a performance at New York Stewart International Airport.  @AirDotShow also coordinated flypasts for the Patrouille de France of New York City, Washington DC and Kennedy Space Center.
@AirDotShow hosted the Breitling Jet Team at four destinations during their North American Tour in 2016 and 2017.  They were one of three jet demonstration teams to perform at #AirDotShowLive Fort Lauderdale that featured the U.S. Air Force Thunderbirds and the Canadian Forces Snowbirds.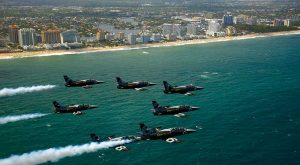 @AirDotShow hosted the Patrulla Acrobática Paracaidista del Ejército del Aire (PAPEA) at #AirDotShowLive Fort Lauderdale on April 20-21, 2013.  This was the only event that the Spanish Air Force's elite parachute team performed at during their visit to the United States.  The Spanish government sent them to commemorate the 500th anniversary of Florida.